Camellia and Blueberry plants from Trehane Nursery
Quality plants - Every Time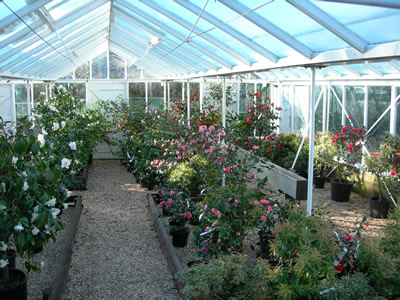 The Trehane family has been associated with both camellias and blueberries for three generations, since market gardener David Trehane reclaimed six acres of swamp and woodland in the 1940s and 1950s in order to trial the blueberry plants that he had newly acquired from Canada. Once it was shown that the plants would grow successfully the nursery was established to produce new stock, and was then expanded to include camellias, recognising that they would flourish under the same acidic soil conditions as blueberries. Having made contact with the leading camellia breeders of the time, David Trehane was instrumental in introducing many new varieties to this country and helped camellias regain their former popularity as an everyday garden plant.
Jennifer Trehane, his daughter, is a world authority on camellia cultivation, having published two books on the subject. She has also stood as Vice President of the International Camellia Society and is a regular speaker at garden clubs, lecture halls and flower show help-desks around the world.
Now into its second half-century, the nursery continues with its philosophy of offering the widest possible range of top quality plants and introducing the best of the latest camellia varieties from around the world.